At Oxfordshire Teacher Training our weekly Professional Development Sessions are delivered by some of the best teachers in the county and will always incorporate research and theory as well as practical tips and advice. We have an incredible team of subject specialists that also provide tailored and specific sessions linked to your subject area. In addition to this, our inspiring 'Super Thursdays' run once or twice a term and provide a full day of in depth training and experience in a particular area related to education.
One of the Super Thursdays we recently led was on Outdoor Education and Museum Learning, this was a fantastic way for our Associate Teachers to see the power of learning beyond the classroom and how they can incorporate this into their own practice. One of our Recently Qualified Teachers has reflected on his training and experiences in this area: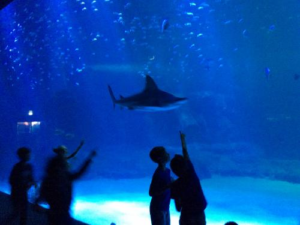 Awe and wonder at the Aquarium!
"I've always firmly believed that a rich education needs to include experiences beyond the school environment. This initially led me to train as a Forest School leader and has more recently informed my route into teaching. The OTT SCITT training on Outdoor Education and Museum learning confirmed the value of these experiences for all but particularly those for whom school might be the only chance to go to a woodland or visit a museum or art gallery. I am currently the Educational Visits Coordinator at St Joseph's Primary and I'm looking forward to helping teachers to plan exciting trips.
We recently took around 50 year 5s and 6s for a week to Normandy where we stayed in a Chateaux, visited trenches and an aquarium and tried eating snails! A foreign visit involved a lot of forward planning but the opportunity for immersive cultural learning as well as the social and personal benefits were definitely well worth it. It brought our First World War topic to life and added huge depth to the children's understanding in class. It was also a great opportunity to get to know the children better and for them to have an experience they will remember for the rest of their life.
I'm grateful for the breadth of the training we benefited from on the OTT SCITT programme, and the fantastic experiences of the Super Thursdays!"
Dan Davis–James
Primary Associate Teacher 2017-18