There are traditional and common paths into certain careers and then there are the rather more unusual journeys taken in people's employment history.
Emilie Ressot's story puts her firmly in the second category.
When it comes to qualifying as a teacher there is the usual route – university, followed very soon afterwards by some form of accredited training.
But that is not the only way into the profession, something to which Ms Ressot (pictured) can bear witness.
The 38-year-old is currently qualifying with Oxfordshire Teacher Training (OTT), which provides school-centred primary and secondary training on a salaried and non-salaried basis to recent graduates and people seeking a change of career. OTT has 71 people in training as part of its 2017/2018 academic year cohort.
Ms Ressot has been offered a job from this September to teach modern languages at The Cherwell School. Part of her training has been carried out at the North Oxford secondary, but her main placement was at Larkmead in Abingdon.
It was at Larkmead that the French national first worked when she and partner Wayne moved to Oxfordshire eight years ago.
"I was a cleaner for 18 months at the school," she said. "Then I was a dinner lady. I could speak very little English and these were really the only jobs I could do.
"Wayne and I met in the South of France when he was working there as a restorer of luxury properties for wealthy English clients.
"I had done art history and chemistry at university, was a trained art restorer and was working as a restorer of antique paintings for museums, but I used to organise classical concerts as well.
"Wayne used to sing in a Baroque ensemble, which is how we first met each other.
"Our daughter, who is now 14, was born over there. It is a wonderful place to live but the Credit Crunch happened and the market for luxury property restoration was badly hit.
"Wayne is from Abingdon, so we came back here and, obviously, I had to look for work."
Having worked as a cleaner and then a dinner lady, Ms Ressot was eventually employed as a teaching assistant at Larkmead. She became a cover teacher before starting her training with OTT last September.
"I suppose I am proof that there is more than one way to become a teacher," she added.
"OTT does traditional training of recent graduates, but it also offers a chance to people who have done things differently but still have a passion to teach.
"The fact that there is a salaried training option is also great. It gives a chance to train to more people who might have something to offer to children and who want to make a difference.
Part of the River Learning Trust multi-academy group, OTT was accredited in 2014 and is based at The Cherwell School in Oxford. It is a member of the Oxfordshire Teaching Schools Alliance and all programmes lead to the award of QTS (Qualified Teacher Status).
In January, OTT was recognised as outstanding after its first ever inspection by Ofsted.
Another OTT trainee who is making the step from teaching assistant to teacher is Emmy Taylor.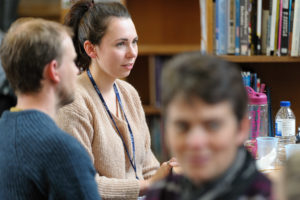 The 23-year-old from Abingdon (pictured) is currently on a placement at GEMS Didcot Primary Academy and has been offered a full-time teaching job there from this September. She had previously worked for a year as a teaching assistant at GEMS.
Miss Taylor studied music at Oxford Brookes University and had always been considering a career in teaching.
She explained why she had chosen a slightly unusual route into the profession.
"I had always thought that teaching music at secondary school was something that I wanted to do. I had gone on a placement at a local secondary while I was at Brookes and quite enjoyed it. But I had always thought I would absolutely love it, so that experience made me reassess slightly what I was going to do.
"I had worked part-time in a nursery while I was studying and realised that I loved working with younger children. I could have done a primary school PGCE at Brookes, but by becoming a teaching assistant I was dipping my toe into the water to make sure it was definitely what I wanted.
"I loved the atmosphere right from the start, and it was just a question of how I was going to go about training. I approached the head at GEMS and it was suggested that I apply to OTT.
"I was lucky to get on the salaried scheme, because it is pretty competitive and there are plenty of applicants. But I suppose that they got a good reference from GEMS and that I was what they were looking for.
"Training on the job is such a great way to do it. People who did PGCEs at Brookes said that the best bit about their training was being in a school. Well, I am in a school for so much of the time, so I am always getting the best bit. And I am lucky to be getting paid for it."