It might be a lightbulb experience, or it might be a slow-dawning realisation, but for older people who change careers to become teachers there is often something momentous behind their decision to retrain.
For Dale Robinson, it was the former – a single, traumatic experience that led to him setting out on the path to the classroom.
Mr Robinson was working as a special constable for the Metropolitan Police in London when a harrowing incident involving a teenaged boy made him realise that he needed to dedicate himself to helping young people.
Now 51, Mr Robinson was at the time already seeking a little more out of life. A successful banker in London, having moved from his native Jamaica as a 31-year-old, his work with the police was an attempt to stretch himself and put something back.
But, reflecting on the incident as he completes his year of training at Wood Green School in Witney, he says it was that moment that set him on his journey to becoming a business studies and computing teacher.
"There was a teenager involved in an emotional arrest, a school-aged boy, and the circumstances around it just broke my heart completely. I knew immediately that I had to be involved in crime prevention rather than intervention. It started me on this path."
That path did not instantly bring him to teaching. He worked for five years as a youth leader with the Volunteer Police Cadets in London, a period that, he says, confirmed his sense of a calling to work with young people.
"I could see that I was having an impact on people's lives," he says. "And that is hopefully what I am doing now as a teacher."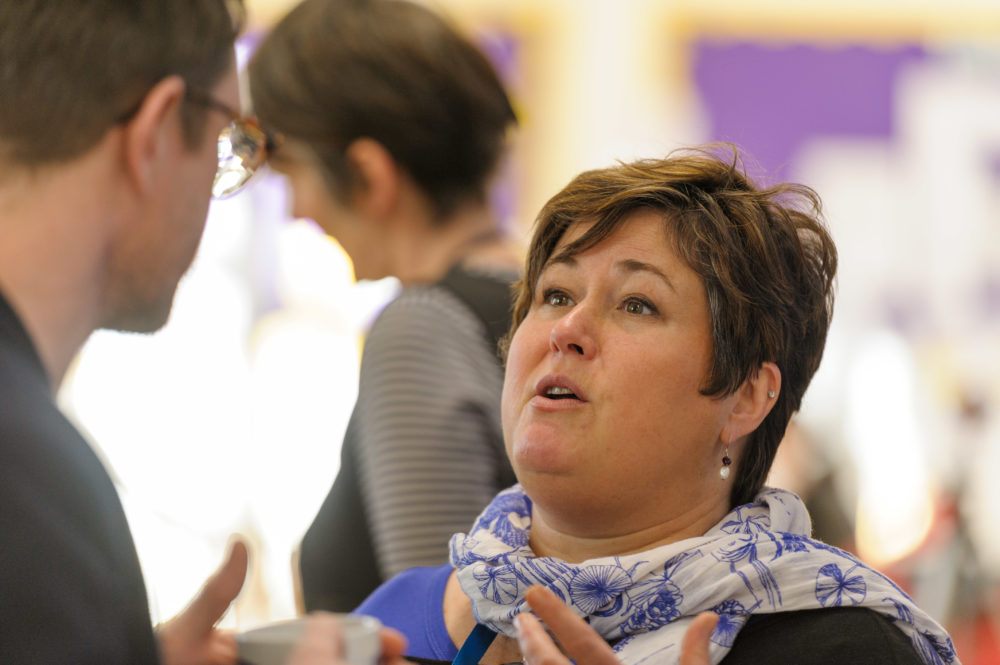 Mr Robinson and his wife moved out of London to start a family. They ended up in Witney because the vicar who married them in London, Simon Kirby, had moved to St Mary's Church in Cogges and recommended the town as a good place to raise a child. The couple now have a 20-month-old daughter.
"I am at a stage now where I am living to leave a legacy for my daughter and for other children," adds Mr Robinson. "I want to empower young people, not overpower them. I am tough – I have boundaries, make no mistake – but I hope that the kids I teach at Wood Green know that I care about them and what they become."
For another career-change trainee with OTT, it was not one moment but a number of factors that were behind her decision to go into the classroom.
Sam Hands, 49, lives in Summertown with her husband and two children and is training to be an English teacher at The Oxford Academy.
She was previously in charge of customer services at an international software company in Banbury, having run a consultancy in Dorset before that.
For her, the motivation for a career switch was some of the big issues of the age.
"Brexit happened and then Trump got elected. Both of these things were shocks that came at a time when it seemed that people were getting poorer, universities were struggling more and more and children did not seem to be getting taught the skills and generally prepared for a fast-changing world.
"I also looked at my own children and at the percentage of people leaving the teaching profession and just decided I wanted to make a difference. I wanted to be on the side of the good guys, rather than just helping a corporation to make more money.
"And, if I am honest, then it was a slightly selfish decision. I wanted to spend summers with my kids before they moved away from home."
Mrs Hands says she had considered going to work for a charity, but that she was somehow drawn to teaching.
"I don't know what swung it with teaching. Perhaps it was a chat I had with a neighbour who had been a teacher. He told me that he had never had a single day when he woke up not looking forward to going to work. That made an impression on me.
"He was involved with OTT and he told me that the people running it were genuinely inspirational guys who wanted to do good things for people. And that became obvious when I met them.
"My age has never been an issue with the other younger people training at OTT. They are a pleasure to be around. For me, my age and experience is definitely an asset. I have done stuff all the things like standing up in front of people and talking before, and I have dealt with work-related stress, so I think I can focus on the new skills.
"I also feel very fortunate to be at The Oxford Academy. It's an amazing school that has made huge improvements in the last few years. The kids are great as well and I just want to make a difference to them."
Two paths and two very different starting points for their journeys. But for Dale Robinson and Sam Hands the motivation for making the jump into teaching later in life is the same – it all comes down to making a difference to young people's lives.
It's never too late to make a difference. With both salaried and non salaried programmes, full and part time, there is a route into teaching for everyone.
Which programme suits me best?